Programs
Parents are the earliest and one of the strongest influencers in a youth's life. These strategies, along with current evidence-based programs (Lion's Quest, SPORT, Strengthening Families, and Good Behavior Game), are expected to have a positive outcome in our community, which will be evident in a reduction of teen arrests, fewer adults hosting minors, increased compliance with current alcohol and drug laws, and an overall reduction in substance use and abuse in our area. Those outcomes will also be further measured by Wahluke's Healthy Youth Survey results in upcoming years.
Objectives
5% decrease in the number of youth who indicate current substance use on Healthy Youth Survey
Maintain the number of students not using substances
Fewer expulsions or detentions
More positive family, school, and community connections indicated on the Healthy Youth Survey and School Assessment of Students
Programs for teens and their families:
A program to strengthen families:
Designed specifically for parents and youth ages 10-14.
The parents and youth join separate groups during the first hour.
The families have fun together and do activities together during the second hour.
The parents learn:
How to be more effective with teens
How to set limits
How teenagers act
Teens learn:
How to resist pressure from their friends
Choose positive friends
Manage anger and tension in a positive way
LifeSkills Training (LST) is a research-validated substance abuse prevention program proven to reduce the risks of alcohol, tobacco, drug abuse, and violence by targeting the major social and psychological factors that promote the initiation of substance use and other risky behaviors. This comprehensive and exciting program provides adolescents and young teens with the confidence and skills necessary to successfully handle challenging situations.
Lions Quest is a comprehensive and universal, evidence-based social and emotional learning (SEL) program. SEL is a process through which children and adults acquire and effectively apply the knowledge, attitudes, and skills necessary to understand and manage emotions, set and achieve goals, feel and show empathy for others, establish positive relationships, and make responsible decisions.
SPORT stands for Substance use Prevention Optimizing Robust Teens. SPORT PPW shares naturally motivating positive images to increase personal goal setting to improve multiple health habits and positive self-identity. The program was designed to help youth look and feel more active, fit, and healthy.

The purpose and goal of this intervention are to create awareness of the substance abuse problems and disseminate prevention information to students, families, and community members who can participate in substance abuse prevention strategies. The coalition partners with the school district's Student Support Services and Positive Behavior Intervention Services to continue the expansion of this work. We share health, safety, and substance abuse prevention information using public service announcements and other messages that support our plan to address local substance abuse issues.

The Student Assistant Specialist (SAP), also known as Prevention-Intervention Specialist, will work with students and families in Mattawa. They are available for one-on-one meetings with parents and students who request help and can also refer community members to other resources. They provide assistance with the prevention clubs at the high school and the junior high. The SAP is also actively seeking continued prevention training and collaborating with coalition leadership committee members.

If you would like to learn more about SAP, contact:
Oscar Herrera, Student Assistant Professional 509-932-4565 ext. 3043
Students will be involved with the coalition through Hope Squads. The focus of Hope Squads is to involve youth in substance abuse prevention work, peer leadership, and positive mentoring. The Hope Squad meets at both the Wahluke Junior High and the Wahluke High School.

Campaigns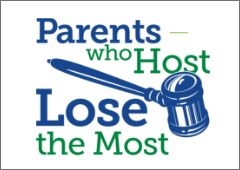 A public health media campaign designed by Prevention Action Alliance, Parents Who Host Lose The Most helps you prevent underage drinking in your community. It reinforces everyone's responsibility to promote healthy choices in your community. Its key message reminds parents that it is unsafe, unhealthy, and unacceptable—and, in many communities, illegal—to provide alcohol for underage youth. It decreases young people's access to alcohol by reducing the number of parents willing to provide alcohol for young people. Over time, it reduces the likelihood teens will drink alcohol and suffer the health effects that come from underage drinking.
The Washington Healthy Youth Coalition (WHY) is a partnership of Washington State government agencies and organizations with a mission to prevent and reduce underage use of alcohol and marijuana. The WHY coalition serves as the Underage Alcohol and Marijuana Abuse / Misuse Prevention Task Force for the State Prevention Enhancement (SPE) Policy Consortium.
You Can WA is a Washington State Department of Health prevention campaign to educate teens ages 12 to 17 about the risks and consequences of marijuana use.
Under the Influence... of You is a campaign designed by the Washington State Department of Health. The campaign aims to help adults talk to the teens in their lives about the risks and consequences of marijuana use.
National Prescription Drug Take-Back Day addresses a public health and safety issue. According to the 2019 National Survey on Drug Use and Health, 9.7 million people misused prescription pain relievers, 4.9 million people misused prescription stimulants, and 5.9 million people misused prescription tranquilizers or sedatives in 2019. The survey also showed that most of the misused prescription drugs were obtained from family and friends, often from the medicine cabinet.
DEA Take Back Day events offer an opportunity here to prevent drug addiction and overdose deaths.
Medication Take-Back Day occurs twice a year in the spring and fall. Find a drop-off location near you.